Editorial Design - Winner of the Gourmand Award BBQ 2014
"Checho" is a traditional barbacue resto in Buenos Aires, Argentina. After 34 years in the gastronomic business, they decided to open the "Argentinian school of barbacue" and published their first book. They asked our studio to design the school and book branding. We created an inclusive feature to cover all media for the campaign: an open identity system to cover the classes advertising and the book publication.
We worked on the identity development, art, photography and editorial design for the "Argentinian school of barbacue" first book. In 2014 it won the first prize in the "Barbacue" category of the "Gourmand" awards.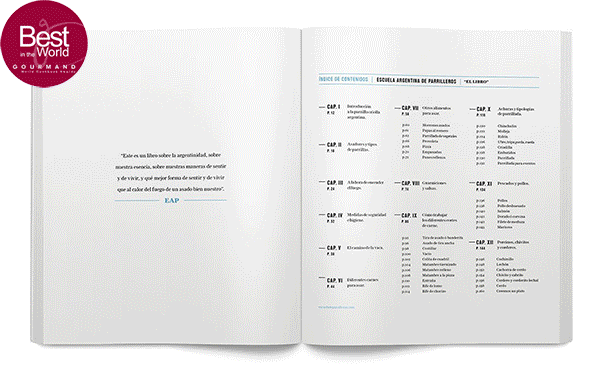 Campaign
Along with the advertising campaign for the book, we developed the school's website with an online store (integrated to MercadoPago), a smartphone app that calculates how many meat is needed for a barbacue based on the number of guests, flyers for the Buenos Aires Book Fair stand and a corporate video that persuades potential clients to know "Checho" and its school.
The book sold out its first edition in just 6 months and it is being translated to english and portuguese to be launched to the international market.
Work done as design director at bestia.tv​​​​​​​